See 200A waterproof ESC here >>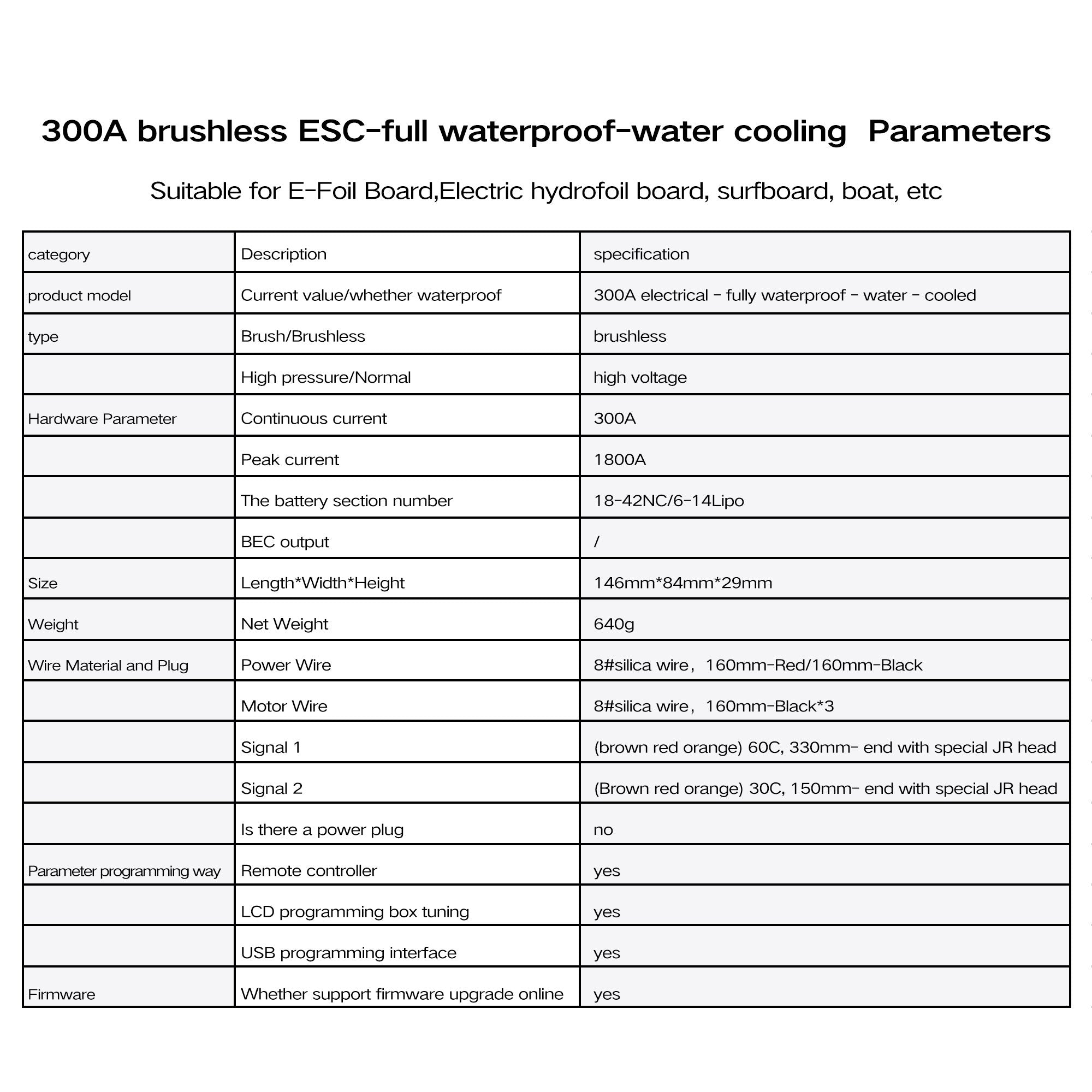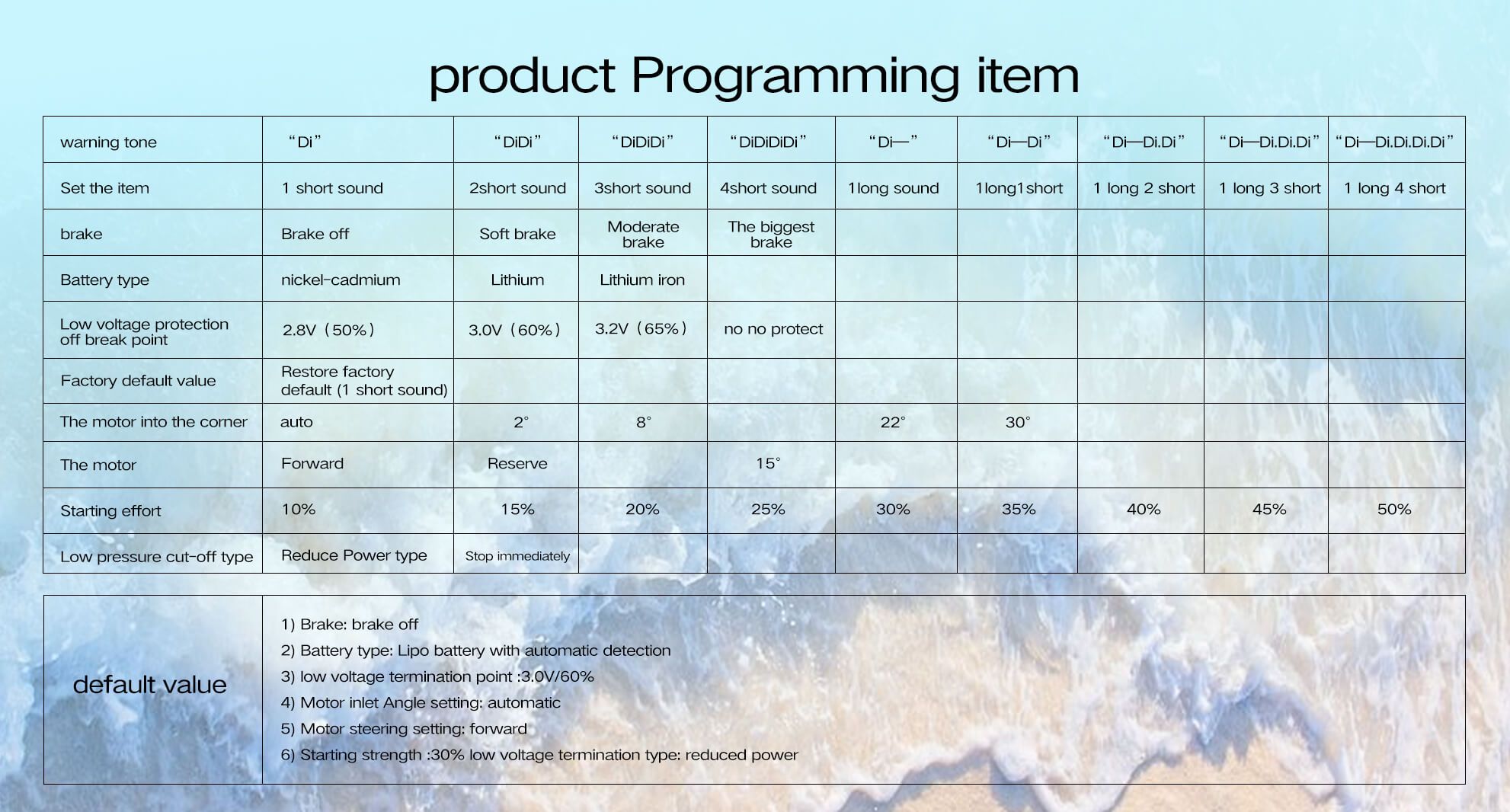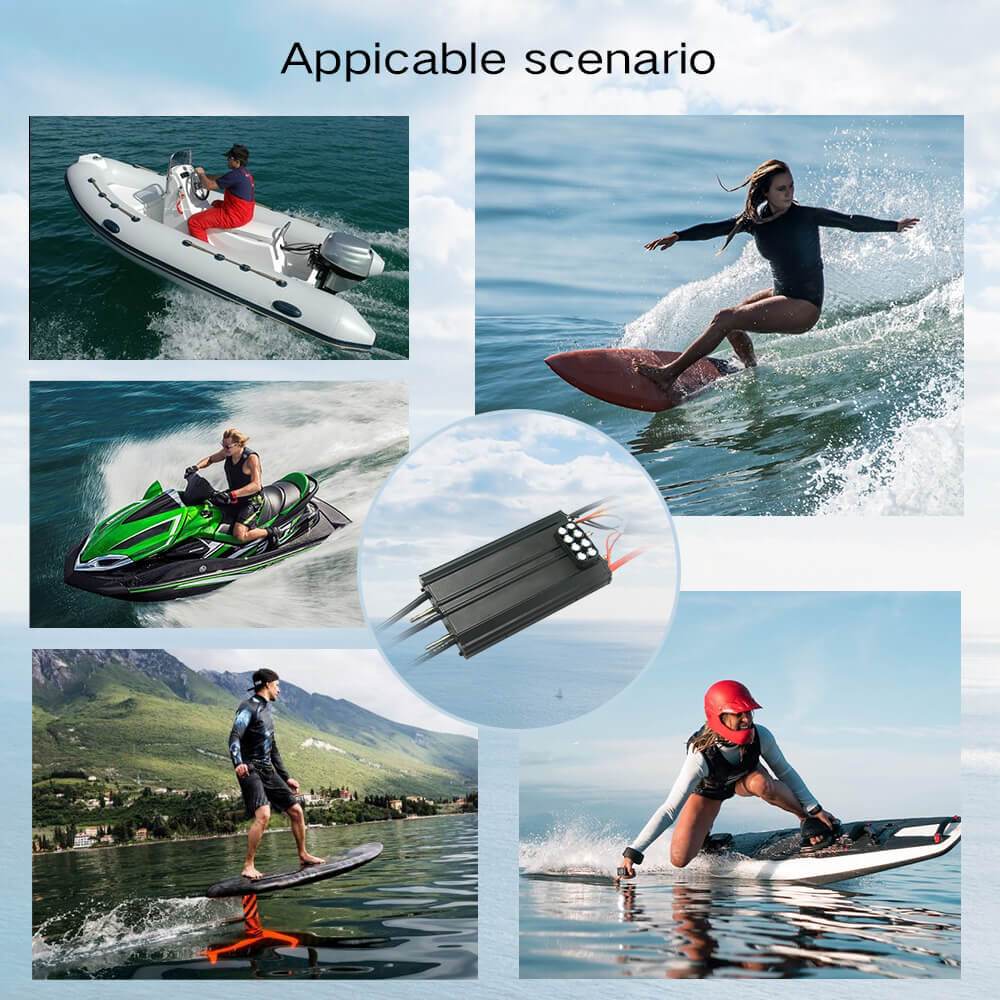 Parameters
Suitable for E-Foil Board,Electric hydrofoil board, surfboard, boat, etc
| | | |
| --- | --- | --- |
| category | Description | specification |
| product model | Current value/whether waterproof | 300A electrical - fully waterproof - water - cooled |
| type | Brush/Brushless | brushless |
|   | High pressure/Normal | high voltage |
| Hardware Parameter | Continuous current | 300A |
|   | Peak current | 1800A |
|   | The battery section number | 18-42NC/6-14Lipo |
|   | BEC output | / |
| Size | Length*Width*Height | 146mm*84mm*29mm |
| Weight | Net Weight | 640g |
| Wire Material and Plug | Power Wire | 8#silica wire,160mm-Red/160mm-Black |
|   | Motor Wire | 8#silica wire,160mm-Black*3 |
|   | Signal Wire | (brown red orange) 60C, 330mm- end with special JR head |
|   | Signal 2 | (Brown red orange) 30C, 150mm- end with special JR head |
|   | Is there a power plug | no |
| Parameter programming way | Remote controller | yes |
| | | |
| | | |
|   | LCD programming box tuning | yes |
|   | USB programming interface | yes |
| Firmware | Whether support firmware upgrade online | yes |
product
Programming

item

warning tone

"Di"

"DiDi"

"DiDiDi"

"DiDiDiDi"

"Di—"

"Di—Di"

"Di—Di.Di"

"Di—Di.Di.Di"

"Di—Di.Di.Di.Di"

Set the item

1 short sound

2short sound

3short sound

4short sound

1long sound

1long1short

1 long 2 short

1 long 3 short

1 long 4 short

brake

Brake off

Soft brake

Moderate brake

The biggest brake

 

 

 

 

 

Battery type

nickel-cadmium

Lithium

Lithium iron

 

 

 

 

 

 

Low voltage protection off break point

2.8V(50%)

3.0V(60%)

3.2V(65%)

no no protect

 

 

 

 

 

 

 Factory default value

Restore factory default (1 short sound)

 

 

 

 

 

 

 

 

The motor into the corner

auto

2°

8°

15°

22°

30°

 

 

 

The motor

Forward

Reserve

 

 

 

 

 

 

 

Starting effort

10%

15%

20%

25%

30%

35%

40%

45%

50%

Low pressure cut-off type

Reduce Power

Stop immediately

 

 

 

 

 

 

 

default value

Brake: brake off

Battery type: Lipo battery with automatic detection

low voltage termination point :3.0V/60%

Motor inlet Angle setting: automatic

Motor steering setting: forward

6) Starting strength :30% low voltage termination type: reduced power
Product features:
Ultra high reliability and durability
All aluminum metal shell, the appearance of more exquisite texture. The solid hardware foundation combined with more advanced software enables the electric modulation to provide extreme violence output and significantly reduce the probability of electrical modulation damage under high load. The protection of voltage undervoltage, overtemperature and throttle out of control escorts the electric modulation. Industrial-grade MCU and optimized code have fast response speed and smooth overall operation; Ultra-smooth and accurate throttle linear, remote signal loss protection; Reliability, durability and practicality are greatly improved.
Stable and reliable heat dissipation system
Custom-made heat sink and copper sheet heat conduction technology, with good thermal conductivity and water cooling module, and add a water pipe at the MOS tube on the power plate, to build a super-high and reliable heat dissipation system, to ensure that the electrical control is always in the best heat dissipation state.
Industrial grade full waterproof design
Full waterproof level, water cooling design, excellent heat dissipation effect; Full protection of electrical modulation, even in various extreme environments, can easily cope with.
Safe power on and overtemperature protection
When the power is switched on, no matter the throttle lever of the remote control is in any position, the motor will not start immediately to prevent sudden rotation of the motor; When the temperature exceeds 110℃, the output power will be automatically reduced. Output recovers when the temperature is below 110℃.