HGLTECH,short for Happy+Good+Life Technology.We hope our technology brings you a happy and good life. We earn the first pot of gold from FPV racing drone industry. The electric bodyboard project was started later on 2019 after we made our own open source ESC of Benjamin VESC® 6. It took us nearly 2 years to finish this exciting project. The Searover electric bodyboard then quickly becomes our best-selling product after its release.
What exactly is Electric Bodyboard?
These are mainly buoyant boards with battery and motors.These motors allow you to move across even stagnant waters.Unlike eFoil or electric jet board, you can soak your body in the water and enjoy the softly touch from nature in summer.
You are going to learn about 10 different suppliers on electric surfboards with different features at very different price points below.
1.HGLTECH Searover electric bodyboard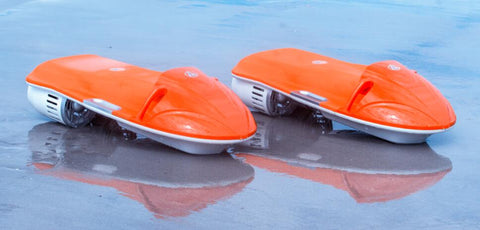 With 15.5KG light weight and 3 speed gears from 7.2km/h to 21.6km/h,Searover electric bodyboard can balance the weight and speed perfectly. Compared with Seabob's 30KG,it is just half of the weight yet it can reach the same speed that Seabob does. Searover is more cost effective as it is only $2999,which is 4X less than Seabob. Searover is probably the most competitive electric bodyboard on the market due to its price and performance. Moreover, you can dive into the water with Searover. If you would like to experience some waves in the water, Searover is definitely your best choice, especially when you have a limited budget.
For more details, please check Searover unboxing review:
https://www.youtube.com/watch?v=E8aFicWn130&t=12s
2.Hoverstar Orca H9 Lifesaving Watercraft
This Orca H9 lifesaving watercraft is designed for rescue.It weights 36kg and claims to have 18km/h with 90min runtime.They have not yet announced the price.A similar model Ark H3 is for sale at $7999 so the Orca H9 would most likely be at a similar price. It is featured with remote tracking GPS technology,this machine is more for rescue use,not for entertainment.
3.FZBlue Electric bodyboard AEF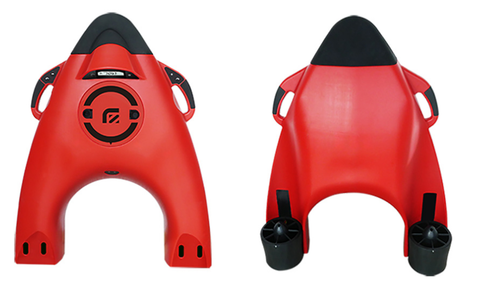 This electric bodyboard has five-gears control yet its maximum speed is only 1.4m/s(60kg loaded),which is 5km/h. It weighs only 13kg,which makes it easy for users to carry. The low speed limits its use yet its battery can last as long as 120mins.The bodyboard adopts A-shaped appearance and you can operate it easily with your hands. This board is for sale at $599. Even they have a rescue version at 2m/s,it is not competitive enough to beat other brand on both consumer or rescue use.
4.Yitong electric bodyboard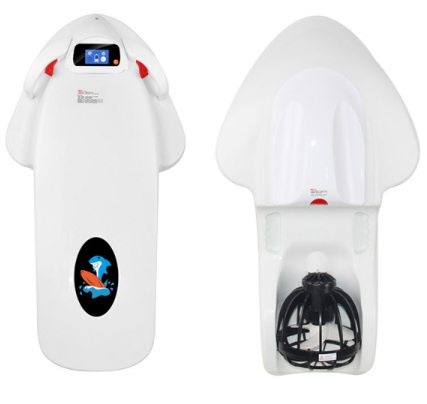 This F2 electric bodyboard was very popular on Alibaba earlier. Yet we heard that it is discontinued somehow.It comes with 4 gears at 8KG and declare a maximum speed at 15km/h. However there is only one motor equipped with this board, so we doubt if it can actually reach its maximum speed.It is for sale at $449 on Alibaba now. This toy may brings you some fun but its performance needs more tests to be proved.
5.Vxfly LESWIM S2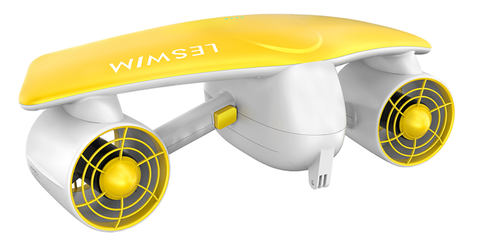 You can dive in the water with this underwater scooter, and its diving speed is 0.8m/s. This scooter looks identical like the Sublue ones and Sublue sells it at $549. 4 colors,Yellow/While/Pink/Black are available and it can speed up to 1.8m/s. It is less than 5kg,so you can carry it easily when you travel. It is suitable for people of all ages  and being applied in various fields.
6.UFLIGHT SCOOTER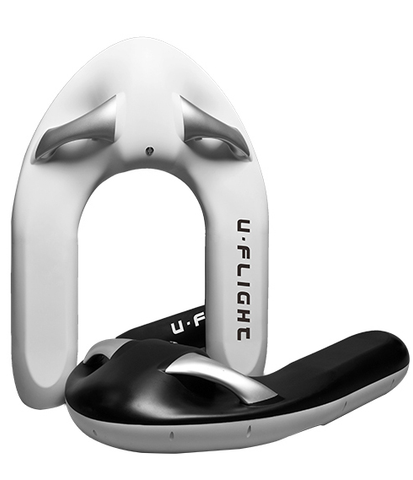 This scooter is made by China Shipbuilding Corporation and British IIT Underwater Technology Company. It has multiple functions such as detection, communication, photography and positioning. Meanwhile,it only weights 7kg and can accelerate up to 2.5m/s.Now it is for sale at around $5900 on JD platform. It is too expensive considering its speed limit, you can even buy an eFoil with this price.
7.Kymear electric bodyboard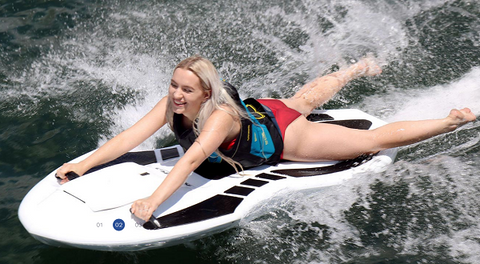 The Kymera Body Board is the world's first electric jet-propelled body board. It is able to carry a rider at 30kph across the water and it is $3895 now.The Kymera is the easiest of all our jet boards to ride – as long as you're tall enough to reach the trigger (about 150cm tall).
Steering is just a matter of using your legs as rudders and shifting your lower body weight to make some amazing turns! It's difficult to fall off, making it ideal for riders who are not confident on standup boards, or in the water generally.
All Kymera packages include everything you need to be up and running fast – battery in hard carry case, charger, maintenance kit and loads of fun!
8.Asap wave jam electric jet board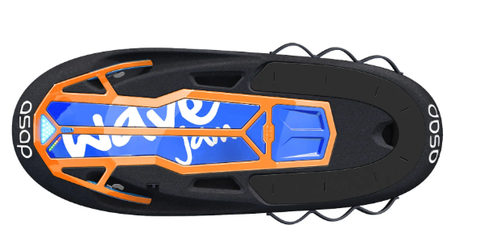 The Wave Jam is designed for a thrilling ride on the water that requires relatively little balance or skill. This souped-up bodyboard has a top speed of 10mph and almost an hour of run time. A three-speed setting means you can set the pace, and to steer you simply lean in the direction you wish to go. It's light – just 24 kg – and compact so perfect for any superyacht toy box.This toy is made in UK and for sale at $7273,making it not competitive for the price and speed.
9.Seabob sea sccoter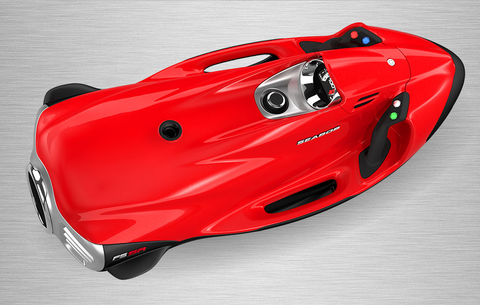 The Seabob comes with a 1.8kW/h, 48-volt battery (made by California-based electric car disruptor Tesla, apparently), which takes eight hours for a full charge – this gives you 60 minutes of non-stop use – while an optional fast charger will take as little as 90 minutes.
The Seabob is 1152mm long, 507mm wide and 372mm high. It weighs 35kg out of the water, or 10kg in it. It is safe to take up to 40 metres deep.Seabob is not that fast though, it as a maximum speed of 20km/h over the water, or 14km/h under. However, those speeds would feel pretty quick if you were doing it face down on a skateboard.
Its price is over $10000,it is like Porsche and Ferrari of electric surfboards. yet you can get a lot of fun from Seabob,the price is not affordable for everyone.
10.Sublue Swii Electronic Kickboard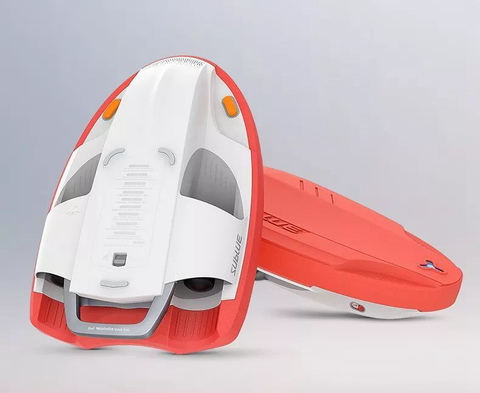 Swii adopts built-in dual propellers and self-developed dual propeller system which can provide 5kg thrust. The detachable and rechargeable lithium battery provides safety, portability and ultra-long mile range.It has 2 speeds up to 3'ps,
It also has fancy LED lights for attraction and battery indication.Super simple control by pressing the only two buttons it has. Now it is for sale at $399 yet this toy is only for kids due to its weak power.
Final Conclusion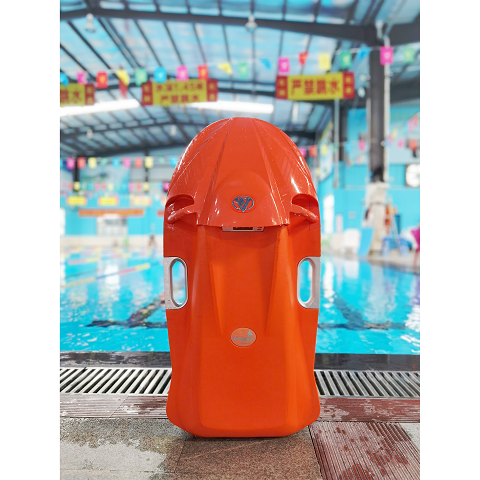 This is our list of the electric bodyboards on the market today. All the facts above show that Searover is your best choice considering the price and performance of the electric boards out there. This board is made by HGLTECH and it has speed and a competitive price. HGLTECH would like to make the electric bodyboard more affordable and hope your life will be ignited by our innovation.
Leave a comment
Comments will be approved before showing up.